MR2 SW20 Convertible 1996
MR Spider
First and only MR Spider in The Netherlands.
I bought the car the day before Valentine's day 2006 in England.
Searched a long time for such a car but since 13-02-2006 I am the proud owner of this Spider.
It's the first SW20 Spider in The Netherlands and on the European continent, according to my information. Since 11 november 2007 there is another MR Spider on the European continent, the second one, in France. See on: http://jhiss.blogspot.com/ In 2012 there are also two in Switserland and 3 in Germany. I don't know how many MR Spiders there are in the UK and Ireland.
Movie from the MR Spider en Honda NSX-T
If You have questions just send an E-mail:
Options:
Automatic Transmission with electrical overdrive.
Power Steering.
TRD Steering wheel with airbag.
Controlled Airco.
ABS Braking System.
Electric folding mirrors.
Cruise control.
Leather interior.
Original polished rims with Toyo tires.
MR2 SW20 Stainless Steel Door Sills.
And is off course RHD.
With a new soft-top, new Sebring exhaust and after a repaint job it looks like new.
Repaint in:
Silver color: Toyota 199 Lucerne Silver, Alpine Silver Metalic
Black Color: Toyota 205 Satin Black Metalic
The car got a new radio/navigation: Kenwood DNX-7200
The car was professionally cleaned, also the motor compartment.
I placed a Wiesmann wind deflector.
Airco is tested, repaired and filled again.
Brakes are overhauled.
Car alarm is checked.
TRD strut tower bar, front and rear.
New front lights.
The car got a Protech treatment.
Dinitrol treatment.
I also replaced many parts and did servive.
Plans for the future:
Keep the car as long as possible in this condition :-)
Here are the first pictures of our MR Spider
So I bought the MR Spider:
Februari 2006
Bring the car for a new roof
Before
After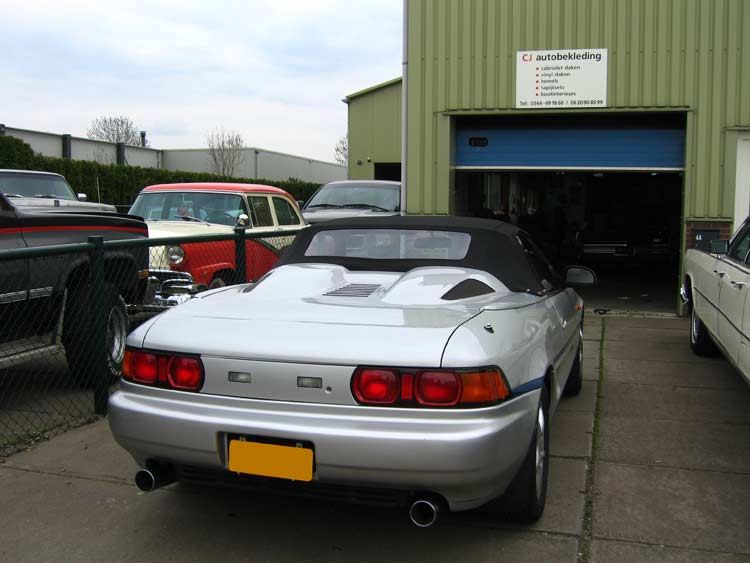 Bring the car for a repaint
after the car was repainted
25 may 2006
and more beautiful Spider pics
June 2006
30 october 2006
with a new leather interior march 2007
Springtime 2007
with new radio/navigation : Kenwood DNX-7200 and electric folding mirrors
june 2007 holiday: Lindenhof, Velden am Worthersee, Austira
May 2008
July 2008
September 2008 with thanks to Thomas Resch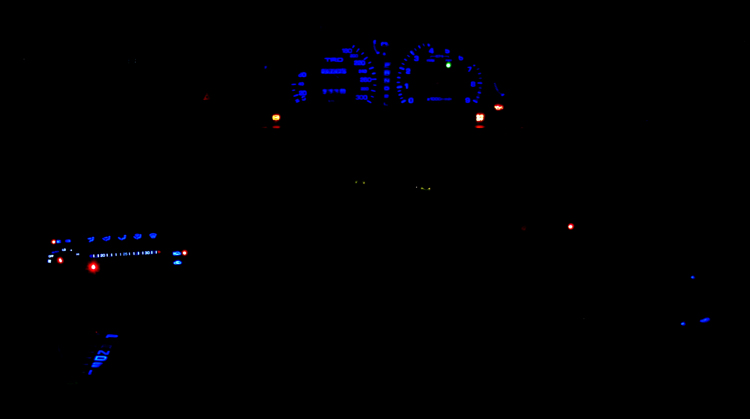 April 2009 with thanks to Alexander Seibt
June 2009 with new rims and with cruise control
Spider in 2011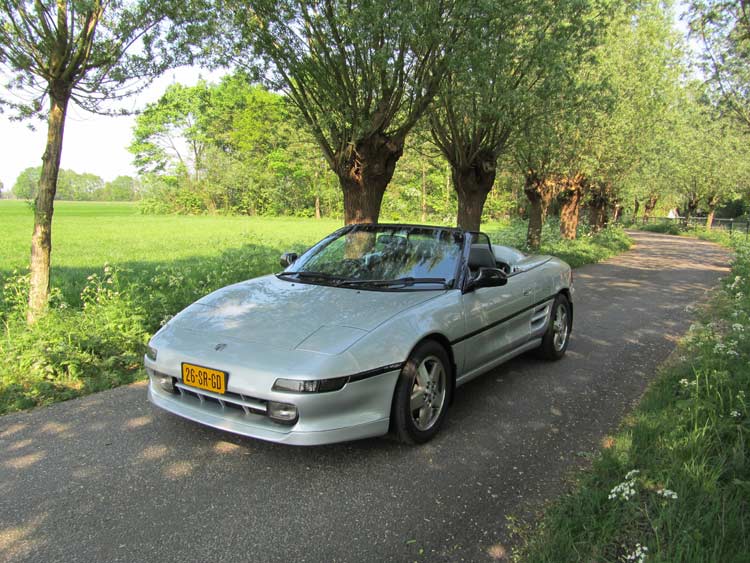 Austria, Italy, Slovenia 2011
If You have questions just send an E-mail:
more info:
our MR Spider in MR2 Only Magazine issue 4 april/may 2007
MR2 Only Magazine: MR2 of the month: august 2007
a nice place in the MR2 Only calender 2007: may 2007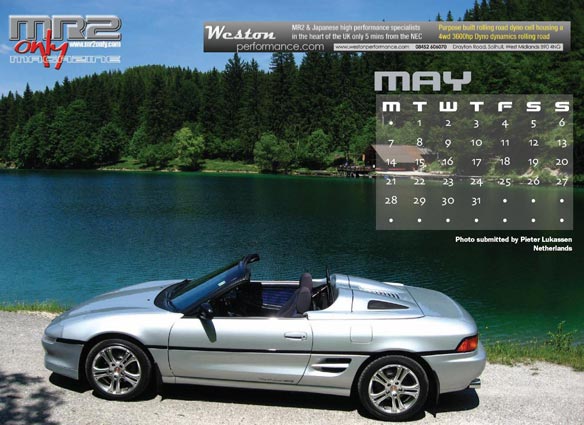 MR Spider articles and brochures
a few prices and facts
Toyota Technocraft: MR Spider Factory
Spider links:
http://www.toyota-ttc.co.jp/history/development1990.html
http://www.mr2.com/TEXT/TRD_Spider.html
http://www.mr2-spider.co.uk/narative.html
http://www.mrspider.net/t2000index.html
http://www.mr2ownersclub.com/mrspider/index_2.htm